Alma's Kitchen Lunch Menu

Banish lunchtime hunger at Alma's Kitchen.
Whether it's lunch for one or many, we have meal options to keep you feeling full and spruce up the rest of your day.
Our lunch menu is packed with flavour, designed for convenience and sure to satisfy. We've taken inspiration from traditional Middle Eastern Sunday lunch to offer classics like a charcoal chicken, garlic and tabouli combo. Or you may prefer the more versatile but equally delicious chicken wrap. If salad is more to your liking, you'll be spoiled for fresh and tasty options. Our lunch service is available from noon to 4pm, Monday to Thursday.
The only thing we can't offer is a spot to nap.

Served hot, handmade sourdough pita
Classic baba ghanouj (V)

9

Flame roasted eggplant, lemon, premium tahini, cold pressed olive oil and aromatics

Labneh & Lebanese Cucumber (V)

12

Creamy strained yoghurt, crushed cucumber, chilli and garlic dressing

Vine-Ripened Tomato Salad

13

Fresh cut tomato, green chilli, Spanish onion and fresh herbs. Served on house tahini.

Aged labneh cheese, cold pressed olive oil, cucumber, tomato, onion, pickled green chili and herbs. Served with heirloom tomato and fresh mint

Slow cooked chickpeas, premium tahini, lemon, garlic, cold pressed olive oil and parsley.
Salt & Aleppo Pepper Calamari

16

Lightly fried golden calamari with Aleppo pepper and lemon seasoning. Served with aioli and lemon

Garlic Prawns (7 pieces)

19

Premium jumbo prawns cooked with garlic, spicy tomato & harissa jus. Served in a "hot pan" with sourdough pita

Sujuk Meatballs (7 piece)

17

Slow cooked veal & sujuk meatballs in a rich spiced tomato sauce. Served with labneh and olive oil
CHARCOAL, WOOD FIRE & DRY AGED

Grilled with our unique basting and served with crunchy chips or fattoush salad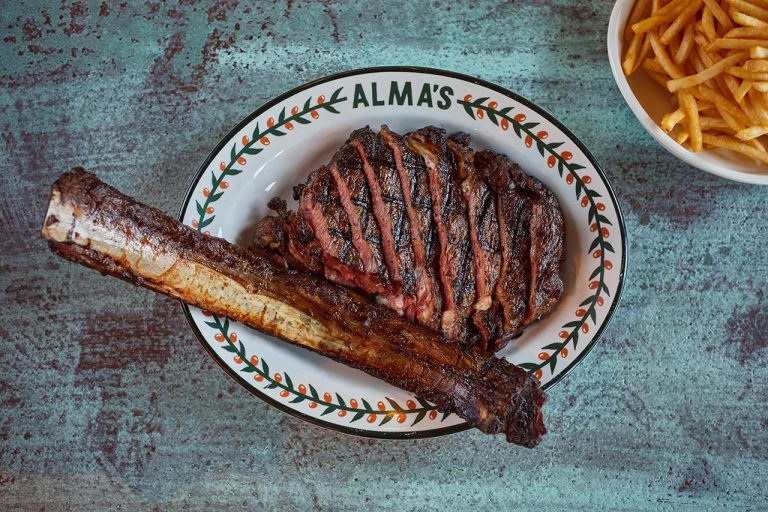 AGED BEEF - BLACK DIAMOND
Tomahawk 1.3-1.7kg MB3+

MP
Shanklish Caesar Salad (V)

14

Baby cos, fresh mint, almonds, crispy pita, parmesan with aged goats cheese ranch dressing

Classic Fattoush (V,VG)

14

Cucumber, vine-ripe tomato, radish, mint, baby cos, crispy pita and pomegranate dressing

ALMA'S Tabouli (V,VG)

8 / 14

Cucumber, tomato, onion, parsley, mint, pomegranate and bulgur wheat with lemon and cold pressed olive oil dressing

Lemon and olive oil sautéed broccolini with roasted almonds & salted cheeses

Crunchy cabbage, aioli & herbs

Served poke style with brown rice & quinoa, roasted pumpkin & chickpeas, fresh mixed salad and hummus. Choose your topping: